Spotlight On English
2013 Commencement Highlights
2013 English Department Graduation Ceremony, Student Address
Paige Smith, English Club president, gave this year's student address.
If there's one commonality between English majors, it's the fact that our degrees will, at one point or another, be questioned. You can never anticipate by whom—it could be your second cousin, that random kid in your GE class, or your roommate's mother—but you can be certain you will eventually hear the following words: "What do you plan to do with a degree in English?" It's cliché, dreaded, and inevitable. In an effort to find an adequate response for myself, last year I visited the bi-annual career fair that Cal Poly offers.
Continue Reading Smith's speech ⇒
---
Student Awards:
TA Award - Excellence in Teaching:                   Morgan Livingston
Graduate Student Excellence Awards:             Erika Pedersen & Morgan Livingston
​American Scholar Prize:                                      Julia Barabas
CLA Awards:
CLA Outstanding Graduate Student (English):        Erika Pedersen
CLA Outstanding English Senior:                                Keren Scarlat

In her speech at the CLA Awards banquet Keren shared,
". . . it is within the English Department that I have found my voice and my love of the written word. This department has irreversibly and irrevocably bettered me as both a scholar and a human being."
Continue Reading Scarlat's speech ⇒
---
English Majors Annual Field Trip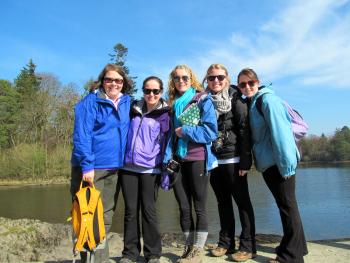 spring, 2013
The international field trip, "Literature of the Lake District", is an intensive tour of some of the most important sights and sites in English literary history. Under the direction of Dr. Waitinas, students will read literature where it was written, complete the same hikes undertaken by the authors and characters of study, and then produce their own literature in the same traditions as the authors they studied. Follow the journey of this year's travelers on their blog, "Literature of the Lake District." You can see last year's trip blog here: http://literarylakes.blogspot.com.
---
English Grads, Where are they now?
Paige Smith
June 16, 2013
Paige is from Dana Point, CA. In addition to the English Club, she was also an officer in The Writers' Collective, a creative writing club on campus, and was a member of the Gamma Phi Beta sorority in college. Paige also has a French minor and will be teaching English in France beginning Fall 2013, then hopefully pursuing a career in professional writing.
Paige was the English Club president and gave the student address at the 2013 English graduation ceremony.
Kate Sugar
June 9, 2012
Kate Sugar graduated in June 2012. She is currently pursuing an M.F.A. degree in Writing with a concentration in poetry at Columbia University in New York City. She works at the Academy of American Poets.

Kate was English Club president and CLA Outstanding Service to the University Award Winner, gave the first ever student address at the 2012 English graduation cermony.
Continue to Read Speech or Watch Video ›
Josh Haevernick
cal poly grad, 2011
Josh is a 2011 graduate from the English Department of Cal Poly. When asked to give insight about his experience as an English major, here is what he had to say: 
"There is a palpable sense of community within the English program at Cal Poly. Professors treat students with the respect of fellow scholars, and set aside plenty of time to meet and discuss issues outside the formal setting of the classroom. Its small class sizes nourish a collaborative atmosphere, and unlike large lecture halls, ensure each perspective will be voiced and heard. Throughout my four years, I felt myself evolve both socially and intellectually.  I learned how to parse language, create insightful ideas, and build strong arguments to support my opinions. All these skills proved indispensable when I decided to pursue law school. In the end, Cal Poly instilled a certain type of confidence in me. I found my abilities in research, writing, and deliberating extremely empowering, and I have Cal Poly's excellent curriculum and faculty to thank for that."
Lauren Babek
cal poly grad, 2010
Lauren is a 2010 graduate; below she has a submitted a few words of praise for the education that she received while majoring in English here at Cal Poly.
"My Bachelor of Arts in English from Cal Poly has fundamentally set the stage for the rest of my life. The program is phenomenal: whether it is the small class sizes, the curriculum and various eras/disciplines of focus, or the best-in-class professors, the combination of these things paired with the curious, devoted, and ambitious peers I was surrounded by created a platform for learning unparalleled to any other. The classroom discussions were rich—filled with hypotheses, ponder, and debate; the readings and writing assignments were rigorous, but within means to allow for mental flexing, personal growth, reflection, and creativity; and the constant motivation and encouragement from everyone in the English Department allowed me to not only push myself academically but enabled me to believe in myself and my abilities to want—and achieve—more. My mind has visited other worlds through the literature, has understood previously unknown people through their everlasting impacts on society, and has enhanced its capacity to think critically due in large part to the analysis around attitudes and philosophies that still bear truth in present day. The culmination of these experiences has allowed me to grow deep confidence in my aptitudes and has taught me to persevere in every opportunity and challenge. Above all else, I know that the knowledge both acquired and imparted upon me through this program will not only be everlasting, but my pride in being a Cal Poly English graduate will as well."
Melinda Moustakis
cal poly grad, 2004
A 2004 graduate of our department, Melinda won the 2010 Flannery O'Connor Award for short fiction. She received her B.A. in English from Cal Poly, her M.A. in English and creative wrtiting from UC Davis, and her Ph.D. in English and creative writing from Western Michigan University. She has stories published or forthcoming in Conjunctions, Kenyon Review online, American Short Fiction, Alaska Quarterly Review, The Massachusetts Review, Cimarron Review, Storyglossia and elsewhere and has been nominated for a Pushcart Prize.
Her book, Bear Down Bear North: Alaska Stories which includes What you Can Endure, is now available through Amazon and UGA Press. The book, a linked story collection set in Alaska, details the lives of a family of homesteaders, salt-tongued fishermen and fisherwomen, hunters and storytellers.  With this book, Melinda has been named in The National Book Foundation's "5 Under 35" Fiction, 2011.

Continue to follow Melinda's work on her website, http://www.melindamoustakis.com/
Melinda was named one of four Princeton Lewis Center for Arts Hodder Fellows for 2012-1013. 
Read more about this accomplishment here.
Doug Cox
cal poly grad, 1998
Doug Cox was born and raised in Fresno, California. He holds degrees in English and creative writing from Cal Poly SLO, Indiana University, and Florida State University.
Doug attended Cal Poly, SLO from 1994-1998, where he earned his BA in English, published his first poem in Byzantium, sang in a local punk band, and played soccer for the first Mustangs team to compete in the NCAA Division I Championships. He later went on to earn an MFA in creative writing at Indiana University and a PhD in poetry at Florida State University. His work has appeared in several online and print literary magazines, and his first book of poems, The Last Decent Jukebox in America, was published in the spring of 2011 by LS&S Press. He lives with his wife and their son in Colorado, where he teaches literature and creative writing at Mesa State College.
Sean Heuston
Cal Poly grad, 1995
Sean Heuston Graduated from the English Department of Cal Poly in 1995. He followed up his BA with an MA in English from Stanford and then a PhD in English from Vanderbilt. Sean Heuston is Associate Professor of English at The Citadel, since 2002. His publications include Modern Poetry and Ethnography: Yeats, Frost, Warren, Heaney, and the Poet as Anthropologist (Palgrave Macmillan, 2011) and essays in journals such as Mississippi Quarterly, Studies in Popular Culture, The Film and History Annual, The International Journal of Humanities and Social Sciences, and College Teaching.
Related Content