Only Connect! Newsletter 2012
Greetings from the Chair
"Only connect! That was the whole of her sermon. Only connect the prose and the passion and both will be exalted, and human love will be seen at its height. Live in fragments no longer."            --E.M. Forster, Howard's End

Kate Sugar, June 2012
Surely one of the highlights of every academic year is the spring commencement ceremony. Faculty don regalia to participate in a centuries-old tradition that marks the end of our students' undergraduate careers and the beginning of their post-graduate lives. Our department ceremony replicates the intimacy you would find at a small liberal arts college--each graduate's name is called and each shakes hands with the faculty members who have supported and challenged them for the past four years. This year, however, we added a new element to our ceremony--graduating senior and English Club President Kate Sugar delivered what we believe to be the first-ever student speech at our ceremony. In her stirring remarks, she spoke to the significance of studying literature, especially at a polytechnic university, and to the rich lives English majors lead upon graduation. Her speech captures so much of what we do and are, and I wanted all of our alumni to have an opportunity to read it.  
Visit our website to read (or watch) Kate's speech in its entirety.
And so, as we enter another academic year, I encourage us all to, in Kate's words, "wake up," and in E.M. Forster's, "only connect!" And remember to stop by the Faculty Office Building (No. 47) and say hello to old friends the next time you're in San Luis Obispo. Nothing pleases faculty more than to hear from and see former students; our doors are always open!
Faculty Awards
Dr. Brad Campbell won the College of Liberal Arts' Richard K. Simon Award for Outstanding Teaching this spring. Brad teaches American literature, African-American literature, ecoliterature, and theory courses for the department. As testimony to his superior teaching, consider this anonymous student comment from his English 305 course: "His criticism is constructive; his teaching method inspiring; and his passion for literature is contagious and has not only furthered my interest in my major but has improved my confidence." Congratulations, Brad!
Faculty Achievements

Dr. Regulus Allen
Congratulations to the three faculty members who were awarded tenure.

Dr. Catherine Waitinas

Dr. Paul Marchbanks
Congratulations to Dr. Dustin Stegner, who was promoted to associate professor.
---
Faculty Retirements
Melody DeMeritt
Melody DeMeritt earned an M.A. in English at Cal Poly in 1980 and has been a valuable member of our faculty ever since. Melody's expertise is technical writing, and she has taught a variety of the courses in our Technical Communications Certificate program. For a number of years she was the only faculty member teaching English 317: Technical Editing, and this course still bears her stamp. Outside of our department, Melody was a champion for writing across the curriculum, leading the WINGED (Writing In Generally Every Discipline) effort and teaching numerous workshops for other faculty. Additionally, Melody has devoted much time to community service activities, including serving on the Morro Bay City Council. She continues to teach with us through fall quarter, at which time she is retiring from teaching to pursue independent consulting work and some much-deserved relaxation. The department is extremely grateful for her more than 30 years of dedicated service.
Barbara Hawkins
Dr. Barbara Hawkins joined our linguistics faculty in 2009 to fill in for Dr. Marnie Petray while she was on leave. Three years later we are indebted to her for her teaching and stewardship of the Teaching English as a Second Language certificate program. With a Ph.D. in applied linguistics, Barbara came to us most recently from Teachers College at Columbia University. She has also taught at CSU Northridge and has worked as a consultant at the University of Southern California. We wish her well in her retirement!
Patricia Troxel
After receiving a Ph.D. from Princeton University, Patricia Troxel joined the department in 1990 after teaching at the University of Kentucky for five years. A specialist in dramatic literature, Patricia taught undergraduate and graduate courses in Shakespeare, modern world drama, American drama, and playwriting. Powerful and engaging in the classroom, Patricia was beloved by her students, whether they were majors, graduate students, or general education students. She was also instrumental in Cal Poly's London Study Program, teaching in that program at least six times in her career. Additionally, Patricia was a member of the faculty at the Pacific Conservatory of the Performing Arts (PCPA), teaching classes and directing truly magical shows. Though she is retiring from Cal Poly, she continues her work with PCPA. We want to thank her for her years of outstanding and dedicated service to our program; we already miss her! 
---
New Faculty
Krista Kauffmann: Modern and Contemporary British Literature
Krista Kauffmann completed a Ph.D. at the University of Wisconsin-Madison in 2009, and taught at the University of Wisconsin, Earlham College, and the University of South Florida before coming to Cal Poly. In addition to post-1900 British, Irish, and anglophone literatures, her teaching and research interests include visual culture, global modernisms, postcolonial theory and literature, theory and history of the novel, and women's literature. Her article "'One Cannot Look at This/I Saw It': Pat Barker's Double Vision and the Ethics of Visuality" recently appeared in Studies in the Novel. In her spare time, she enjoys running and exploring new places.
José Navarro: Ethnic American Literature
José Navarro was born and raised in East Los Angeles. He earned a bachelor's degree in English from the University of California at Berkeley and a Ph.D in English from the University of Southern California. In 2009, José won the USC Dornsife College of Letters, Arts, & Sciences' Excellence in Teaching Award. His research interests include Multiethnic American Literature in general, and Chicana/o Latina/o, Native American, African American, Asian American, and working-class literatures in particular. He moved from Pasadena to San Luis Obispo with his partner Jenell and daughter Nayeli.
Amy Propen: Technical Communications
Amy Propen comes to us from York College of Pennsylvania, where she taught courses in its undergraduate professional writing major and directed its professional writing internship program. Her teaching and scholarship focus on how rhetoric and technical communication can accomplish advocacy work, and she has additional interests in science writing, environmental rhetorics, visual rhetorics, and geography. She has a Ph.D. in rhetoric and scientific and technical communication from the University of Minnesota, and a master's degree in technical and professional writing from Northeastern University in Boston. She especially enjoys hiking, biking, birding, and generally being outdoors. She is pretty certain that Cal Poly, San Luis Obispo will be the perfect place to entertain all of these interests.
---
Undergraduate Student Awards
Kate Sugar won the College of Liberal Arts' Award for Contributions to the Image of the University. A graduating English major with a minor in women's and gender studies, Kate served as the president of the English Club, where she not only increased the size of the club's membership, but also implemented a highly successful student mentoring system. In addition to her efforts within our department, Kate also worked to promote the interests of the university more broadly. She served as a student representative to the Alumni Association's board of directors and as president of Poly Reps. As the treasurer for our campus' chapter of the Women's and Gender Studies Honor Society, and in her work with SAFER and the Pride Center, Kate reached out to the community beyond our campus, illustrating the humanistic values our discipline holds dear. This fall she is pursuing a Master of Fine Arts degree at Columbia University. 

Grad Student Study Session, 2012
Graduate Program
Our M.A. program graduated 12 students in the 2011-12 academic year, and our faculty are quite pleased to see a number of recent graduates nurturing their love of the discipline by heading into either teaching positions or Ph.D. programs.  This fall, Elizabeth Chamberlain begins work on her Ph.D. in rhetoric and composition at the University of Louisville; Casey Woods starts teaching American literature at a high school in Redding, Calif.; Kyle Kamaiopili enters Tufts University to earn a Ph.D. in literature; and Brinn Strange moves from a part-time to full-time position teaching composition at The University of Southern Mississippi.
Though many of our students this past year busied themselves with preparations for the Comprehensive M.A. Exam, a couple found time to present at professional conferences.  Susie Kopecky presented a paper titled "Shades of Dreams to Come: Daniel Deronda, Nationhood, and The Elephant in the Room" at the Western Regional Conference on Faith and History, held at Pepperdine in October 2011, while Erin Holzer presented a paper titled "A Shared Trauma: Men and Women on the War Front in Hemingway and O'Brien" at the Second Global Conference, "Trauma: Theory and Practice," held in Prague in March 2012.
Each year, we enjoy celebrating our students' achievements in writing, academic work, and teaching.  In the 2011-12 academic year, Julia Bluff and Casey Woods received our very competitive Outstanding Achievement Awards, and Megan Slocum was awarded the highly esteemed 2012 English Department Graduate Teaching Associate Award for Excellence in Teaching.  Other honors included the 2012 Cal Poly English Excellence Award for an aspiring teacher, awarded to Casey Woods, and the 2012 Mary Lou Hughes Scholarship for academic excellence in a current student planning to teach after graduation, received by Emily Olson. 
Keep up on all the happenings in the graduate program by visiting The English Graduate Program's website.
Composition Program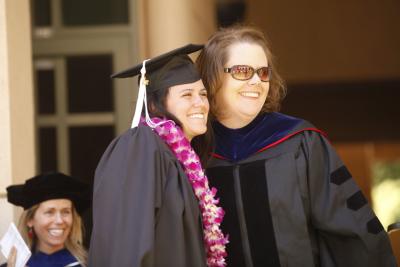 Megan Slocum with Dr. Brenda Helmbrecht
In fall 2011, the Composition Program invited eight new graduate teaching associates to teach first-year writing classes. Each TA completed intensive training (including a graduate course on composition theory) with Dr. Brenda Helmbrecht, the director of writing, before stepping into a classroom. At the end of fall quarter, the TAs presented their teaching strategies and pedagogical philosophies to faculty at the 5th annual graduate teaching associate conference, titled "Empowering, Forming, Owning…Style: Teaching Deliberate Rhetoric in First-Year Writing Classes." The energy and ingenuity the TAs bring to their classrooms is greatly admired by both their students and the department. In spring quarter, the composition program awarded Megan Slocum with the English Department Graduate Teaching Associate Award for Excellence in Teaching. Megan received $150 and a certificate of achievement at the English Department's spring commencement ceremony. 
This fall the Composition Program published its 6th edition of Fresh Voices: Composition at Cal Poly, a collection of student writing that is used in nearly every section of English 134, Cal Poly's required first-year writing class. Nearly 200 essays were submitted for publication consideration by students enrolled in last year's English 134 classes. The selection committee, chaired by Brenda Helmbrecht, was comprised of Sadie Johann and Jon Bartel (composition instructors who also served as assistant editors), as well as TAs Leticia Ericson and Rebekah Maples. Fresh Voices is an innovative text that provides incoming students – who are learning to write at the collegiate level – with models of effective and compelling essays written by their own peers. The collection functions as both a teaching tool and a showcase of Cal Poly's talented student writers. Fresh Voices is also being used by some faculty outside of Cal Poly, including at local community colleges and other institutions across the nation. Proceeds from the collection help to support the Composition Program throughout the year.  If you would like to purchase a copy, please contact the University Store or Brenda Helmbrecht. Visit our website to view past editions of Fresh Voices.
The program is also undertaking a number of other initiatives, including revisiting the English 145 course objectives to ensure consistency across sections. We are also assessing the effectiveness of our "stretch program," which has been in place for three years. Students in the program take two quarters of intensive writing instruction with the same cohort of students and the same instructor, thereby ensuring that they develop their writing skills in a supportive and rigorous environment.
Creative Writing Program
Byzantium  
Our literary magazine celebrated its 22nd edition this year! A big thanks to co-editors Chrissy Berry and Brita Shallcross for producing another fantastic issue. The winners of the Al Landwehr Creative Writing Contest are published in the magazine each year. English majors placing in the contest were poets Kate Ward Sugar (1st place) and Cate Harkins (3rd place) as well as fiction writer Bradley Ryan (2nd place).
In other creative writing news, Jess Zwicker (junior) won the 2012 Academy of American Poets Contest for her poem "No One is Lost."
Visit the English Creative Writing website for more
information about the program.

Editors Brita Shallcross and Chrissy Berry
Dr. Kevin Clark
Speaks at the Unveiling
---
Learn by Doing
Faculty often take students on field trips to enhance their classroom learning. Several generations of English 203 and 204 students, for instance, have visited the Getty Museum or attended Shakespeare productions. This year, however, two faculty members created opportunities for English majors to inhabit the literary worlds they were studying; these trips provided true Learn by Doing experiences that students are sure to remember for the rest of their lives.
Dr. Brad Campbell took students in his Literature and Landscape of the American West seminar to Big Sur, Carmel and Monterey.  In conjunction with their study of California poet Robinson Jeffers, students toured Tor House, Jeffers' Carmel home, and hiked the coastlines and mountain ranges of Big Sur to better understand the landscapes about which Jeffers wrote.  On a separate trip, students coupled their study of Steinbeck's classic Cannery Row with a visit to the National Steinbeck Center and a day spent exploring the novel's still lively environs. 
Steinbeck Center: L-R: Kate Bitto, Bradley Ryan,
Dr. Campbell, Kate Wieking, Andrew Bloom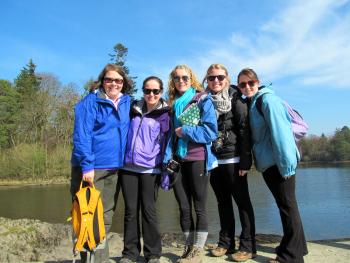 Dr. Catherine Waitinas led a group of six English majors to England over spring break as part of a seminar called the Literature of the Lake District. Among other Learn by Doing activities, these students hiked from Wordsworth's house to Coleridge's and sat in Wordsworth's writing chair as part of a private tour of his house, affording them a once-in-a-lifetime opportunity to soak in Wordsworth's aura. As part of this course, students produced a book in which they wrote literature of their own to add to the literary tradition of the Lake District.
Lake District: L-R: Dr. Waitinas, Sarah Horne, Lacey Buck, Brita
Shallcross, Jenna Stafford
English Club News
Led by a group of committed and energetic officers, and advised by Dr. Catherine Waitinas and Dr. Sophia Forster, the English Club organized a number of successful and fun events over the 2011-12 academic year. In addition to redesigning the club T-shirt and hosting literary game nights and movie nights, the club arranged two banquets, in December and June, to celebrate the English Department's graduating seniors. Club members also expanded the club's more "serious" functions by organizing readings at senior care centers and creating and implementing a popular new mentoring program that pairs underclassmen with upperclassmen. We have an unusually large group of officers slated for this upcoming academic year and are excited to see what projects their enthusiasm will yield.
---
Alumni Advisory Board
2011
In the spring of 2009, the department formed its first advisory board. A group of 12 alumni met with Kathryn Rummell and Bill Fitzhenry to discuss ways in which alumni could help the department maintain and promote the excellence of its undergraduate and graduate programs. The board has met four times since, and is currently focusing its energy on expanding our Career Connections program to help our majors and graduate students better understand the vast array of careers available to them. The advisory board meets two Saturdays a year (fall and spring) for about four hours each. We would love to have more alumni involved, so if you are interested, or would like more information, please contact Kathryn Rummell.
Career Connections
In an effort to better advertise the various careers our alumni pursue, we implemented a Career Connections program in 2010. Interested alumni fill out a brief profile about their career, email it to us, and we post it on the Career Connections section of our department website. Students can consult these profiles to discover careers they may not have considered, and then possibly contact the alumnus for more information or a meeting. We hope to expand this program so it can serve as a true network of Cal Poly English graduates. If you are interested in participating in the program, please email Kathryn Rummell.
A second aspect of our Career Connections program is our ongoing series of career events. The advisory board and the English Club have co-sponsored two Speed Networking events. Modeled on the "Speed Dating" phenomenon, Speed Networking is a time-efficient way for current English majors to gain exposure to a variety of different careers open to them. Majors spend four-five minutes talking to each alum about career possibilities, and then join them for an informal reception to encourage longer and more in-depth conversations. Additionally, we have hosted four resume and interview workshops led by talented alums Roger Reedy, Ann Neumann and Sherrie Amido. These career events have been well received by students and alumni alike, and have resulted in at least two job opportunities for current students. If you'd like to be involved in future career events, please email Kathryn Rummell.  
English alums from Cal Poly now have a presence on Facebook. We encourage you to join our group:  Cal Poly English Alumni.
What makes our programs so special? Small class sizes; one-on-one help during office hours; faculty who know not just students' names, but also their stories; meaningful interaction between faculty and students; faculty who produce nationally recognized scholarly and creative work. These qualities are more often found at a private liberal arts college than at a public state university. And yet they represent the very philosophy and practice of our program. Please help us continue our strong legacy of student success. Support the English Department.
Website
Please visit the English Department website for updates throughout the year!
Related Content